News & Events

Join Team Hooper at the following events!
Safety Harbor Third Friday on Friday June 15th from 5:30 until 9:00 pm on Main Street, Safety Harbor.
CNCN Legislative Update on Monday June 18th from 7:00 until 8:30 pm at White Chapel & Harbor Hall, 1190 Georgia Ave, Palm Harbor.
North Pinellas Republican Club monthly meeting on Thursday June 21st from 6:00 until 8:00 pm
Oldsmar Summer Festival on Saturday June 30th at Tampa Bay Downs
Tuesday, January 30, 2018 12:00 AM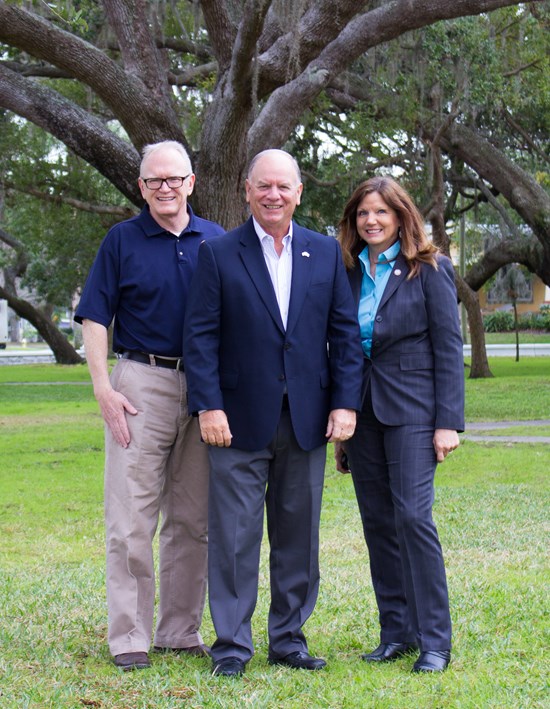 ---
Friday, November 10, 2017 10:12 AM
Thank You To All of Our Veterans On This Special Day!
Thank you to all of our veterans and their families as we remember all of you for your service and sacrifice to our country today and every day...
---
Tuesday, October 17, 2017 11:00 AM
---
Monday, October 16, 2017 11:00 AM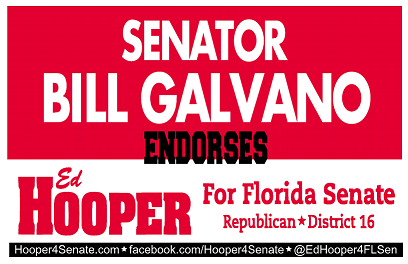 ---
Wednesday, October 4, 2017 10:00 AM
---
Tuesday, September 5, 2017 12:00 PM
---
Tuesday, August 22, 2017 9:00 AM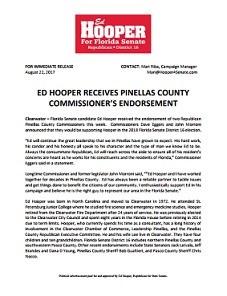 ---
Monday, July 24, 2017 12:05 PM
---
Tuesday, July 18, 2017 1:12 PM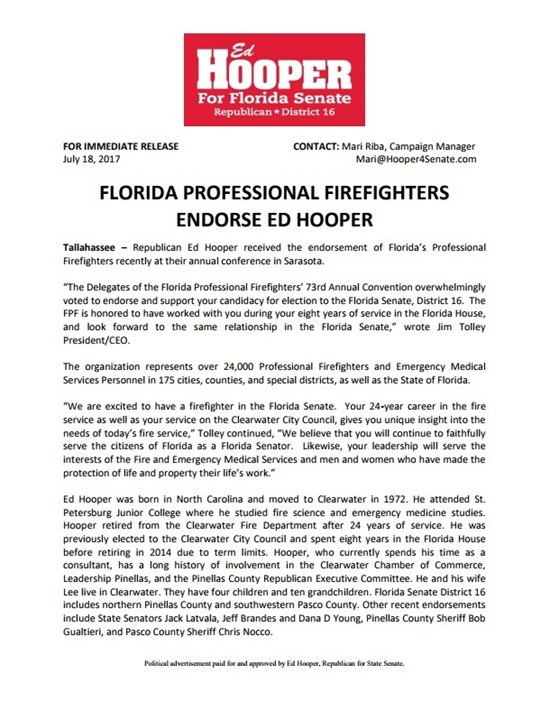 ---
Friday, July 14, 2017 10:05 AM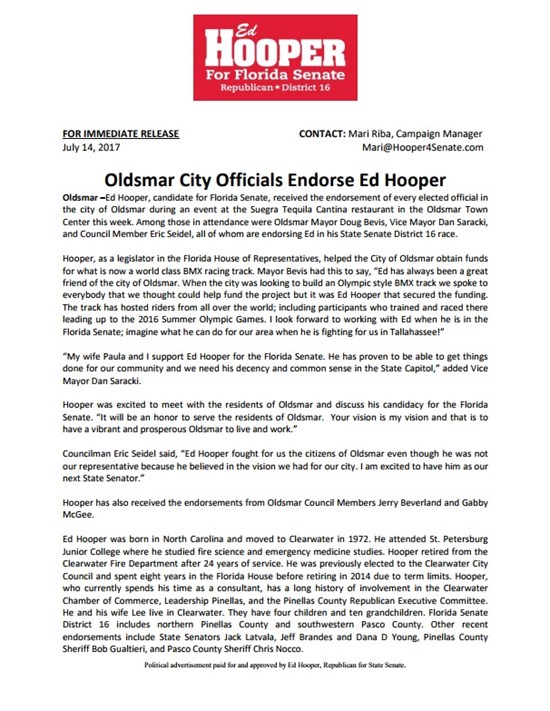 ---
Monday, July 10, 2017 11:00 AM
---
Friday, July 7, 2017 12:00 PM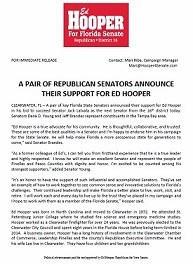 ---
Monday, July 3, 2017 10:30 AM
Happy Independence Day!
Dear Friend,

Today we celebrate the birth of our nation.

It is a reminder of the courage it took to hold true to our core American principles of life, liberty, and the pursuit of happiness.

It is a time to reflect upon the sacrifices made by the founders of nation and their families.

And it is a time to recommit ourselves to our country's success and celebrate just how fortunate and blessed we are to live in this great nation.

I wish you a Happy Independence Day and I hope you have a great time enjoying this celebration of our country.

I look forward to seeing you on the campaign trail!

All the best,

Ed
---
Thursday, June 29, 2017 3:05 PM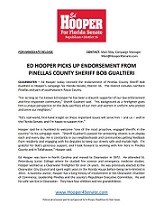 ---
Friday, May 5, 2017 11:29 AM
We will be having our next campaign event at Suegra Cantina in Oldsmar on July 12th from 5:00-7pm.